Draaimolen Festival
11 - 13 September
Official Draaimolen Festival Campsite
11 September until 13 September 2020
We love Draaimolen, because we can sense the love and the passion the organisation has for the music and the scene they operate in. As the official festival camping of Draaimolen, we will be welcoming visitors of the Draaimolen Festival for the third time.
From 11 September until the 13th of September,  you will be able to place your tent or park your campervan on our camping grounds, so you can enjoy Draaimolen Festival without a care in the world.
Once you're on the camping site,  you can rent a locker for your valuables or a bike to go to the festival. If you want to be updated about things like this, you can sign up for our newsletter.
Camping Tickets
Regular Camping ticket:
Campingticket 1 night: Sat – Sun
€ 17,50
Campingticket 2 nights: Fri – Sun
€ 30,00
Camper/caravan ticket:
1 night: Sat – Sun
€7,50
2 nights: Fri – Sun
€15,00
Festipi:
Festipi 1 night: Sat – Sun (2p)*
€94,00
Festipi 2 nights: Fri – Sun (2p)*
€123,00
Festipi 1 night: Sat – Sun (2p) incl. sleeping gear**
€154,00
Festipi 2 nights: Fri – Sun (2p) incl. sleeping gear**
€183,00
FAQ
What time do we arrive?
You are welcome at 14:00 ;)
I arrive very late!
No worries, send us a heads-up at info@stadscampingtilburg.nl and come to our reception first when you arrive.
Untill what time I am allowed to stay on Sunday?
13:00! After 13:00 on Sunday we  start cleaning up and tearing down the event campsite. Services  will be discontinued at 12:00  and due to your safety, we expect everybody to leave at 13:00.
If you have any other questions about the Draaimolen Festival Campsite, you can e-mail us at info@stadscampingtilburg.nl or send us a message on Facebook or Twitter.
No tent, no problem! You can rent our amazing FESTIPI'S!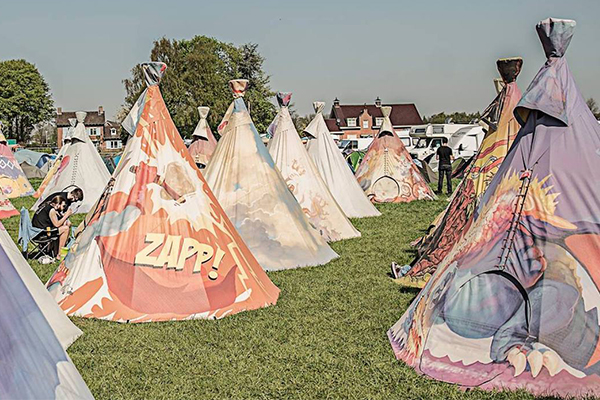 Festipi – (2 persons)
The Festipi looks great on the outside and are comfortable to stay on the inside! With a height of 2.5 meters, you can easily stand in this tent. Every Festipi has an unique art on its canvas,  inspired by popular culture.
Just like the traditional North-American tipi, these tipi's enjoy perfect air circulation, so the tipi will remain pleasantly cool during a hot day and pleasantly warm during a cold night.
What's included?
The Festipi is camping-ready and the following will be included with your ticket:

2x campsite entrance
2x  thick  Nomad 10.0 Sleeping mats.
2x  soft JYSK pillows, including clean pillowcases.
2x thick Nomad Bronco sleepingbags.
Our FOod CATERING
Stadscamping Tilburg will be catered by Crêperie Natuurlijk and De Spijzenier.
Both caterers are known for their affordable and good and tasty food. 
Crêperie Natuurlijk
At Crêperie Natuurlijk, 100% organic crêpes are baked à la minute according to a Breton recipe with biological honey beer as a special ingredient. The crepe is a very thin pancake and is traditionally baked on a large cast iron plate. It is serverd with:  homemade salted caramel, jam, banana with chocolate spread or seasonal fruits with whipped cream. For the savory appetite we serve authentic Breton Galettes. This is the savory, crunchy variant of the crepe, made with the healthy buckwheat flour. Our favorite; the Wokkie – Tokkie Special: cheese, bacon, onion chutney and a fresh egg.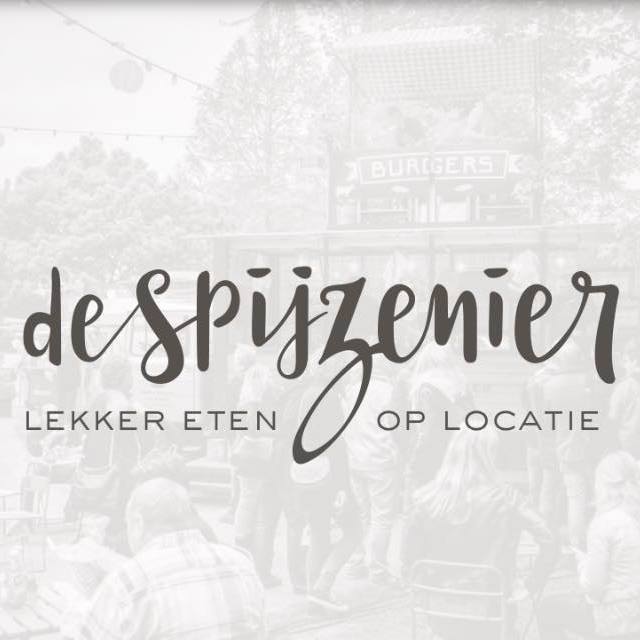 De Spijzenier
De Spijzenier, born out of passion for atmosphere and taste, started out as The Smallest Soup Stall by Toon Zebregs and Maartje Appels. As lovers of good food and nature, they  like to share their love for good food with their guests.  De Spijzenier has an ever changing menu, so you will never know what you will get. One thing is for sure: They stand for honest food, special flavors and authenticity.
Facilities
A cozy bar with a nice assortiment of local craft beers.
Freshly prepared breakfast with coffee and tea.
Charging point for mobile phones.
Electricity for caravans & campers.
Clean toilets.
Wasbasins and showers with clean, cold and hot water.
Rental service for lockers and bikes
Good to know…
The official Draaimolen Campsite is a meeting place for all Draaimolen visitors.
Stadscamping Tilburg is located in the city center of Tilburg. 
The Draaimolen Festival area is 15 minutes by bike or 35 minutes by bus.
We have a newsletter that will provide you with the latest details!
Location
The Draaimolen Campsite will be located in the Spoorpark at Spoorpark 2, Tilburg.
| Title | Address | Description |
| --- | --- | --- |
| | stadscamping tilburg | |